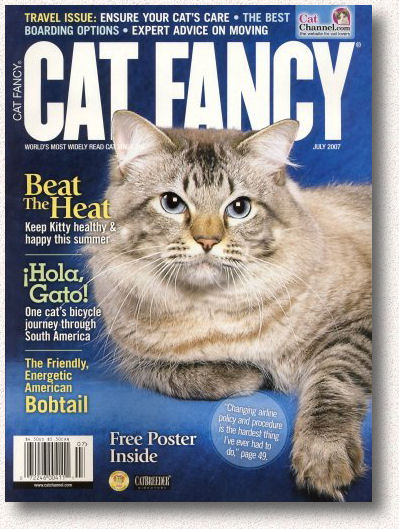 BELOVED AMERICAN BOBTAILS is incredibly proud that our handsome and wonderful Pax aeon Terra is on the cover of Cat Fancy Magazine, July 2007 issue. We also very pleased to have four more pictures of our cats in the feature article about American Bobtails.
At BELOVED AMERICAN BOBTAILS we specialize in lynx point and silver spotted American Bobtail kittens with blues and brown spotted kittens occasionally. We are a small cattery in New Jersey, right outside of Philadelphia. All our American Bobtail cats live in our home with our family, our lovable and silly Doberman, Gabe, and our incredible Shiloh Shepherd dogs, Zoey, Tylor and Sage. The kittens love to interact with all the dogs.
(This is Michabo, the silver spotted American Bobtail boy who started Beloved American Bobtails. In this picture he's only 7 months old. He's "Uncle" to all the cats and kitten in our home)


The following article was written in 2005 about Ellen and appeared in the Garden State Woman magazine. (click on image to enlarge)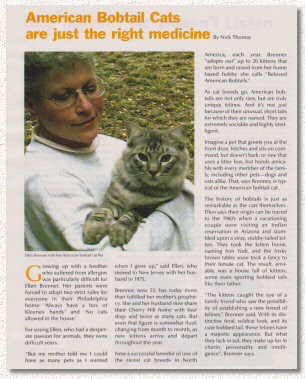 (Adobe Acrobat Software Required to View File- See Below)





Get a FREE Copy Of Adobe Acrobat Reader By Clicking Here.
Please call or e-mail us to find out more about our very special AMERICAN BOBTAIL breed. We welcome questions and will be happy to help you find the best companion you will ever have.
We prefer not to ship and if you are not close enough to personally pick up your kitten or cat, we will be happy to recommend a reputable breeder near you. I am very proud to show off all my American Bobtail cats and kittens and my well kept cattery to potential buyers. Having confidence in how your kitten or cat is loved, socialized, raised, and housed is very important in picking your Beloved American Bobtail.
BELOVED AMERICAN BOBTAILS is a member of the The International Cat Association (TICA) and the Cat Fanciers Association (CFA). We are dedicated in developing American Bobtails according to Breed Standards.


Our very own Riverdance Remington Steele of Beloved American Bobtails and Beloved American Bobtails Fanci of Autum Sun would like to congratulate their son,
Supreme Grand Champion Autum Sun Hershey Kiss
for being the first non-neutered American Bobtail to obtain that title.
Congratulations to our wonderful friends, Bonnie and John Charvat, for bringing Fanci and Remy together to produce this very special boy.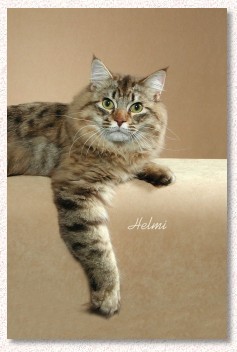 Helmi Flick/Feline Fotos by Helmi



BELOVED AMERICAN BOBTAILS is a recognized TICA OUTSTANDING CATTERY
and a member of the TICA RESPONSIBLE BREEDER PROGRAM


Queens
Studs
Picture Gallery
Available
About Us
Pets & Alumni
TICA
Beloved American Bobtails
Ellen R. Brenner
Cherry Hill, NJ 08003
(856)428-6702

email: ellen@belovedshilohs.com
www.belovedbobtails.com