Welcome to BELOVED AMERICAN BOBTAIL CATTERY.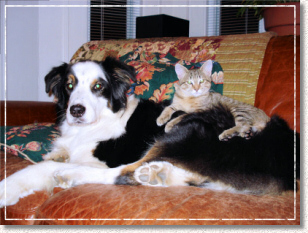 DECEMBER, 2010
Beloved Bobtails is going to be taking a year off in our breeding program of American Bobtails. Weíve been breeding for 13 years and itís been an amazing experience and joy. We feel that weíve raised some of the most beautiful, personable, large and loving American Bobtails in North America.. Our cats and kittens have been on the cover of CAT FANCY, the centerfold of CAT FANCY, in magazine articles, on The Today Show, and on CATS 101. This was a major accomplishment for our incredible American Bobtails.
Now we are taking a break. Veterinarian expenses have tripled, food and litter expenses have doubled and the economy is not in good shape. We donít want to produce kittens that canít find great forever homes or special forever homes where they are greatly loved and part of the family.
We can recommend four breeders that we think highly of. They are:
Bonnie Charvat, Autum Sun Bobtails,
www.autumsunbobtails.com
Barbara Graff, Nachrel Cattery,
www.nachrelbobtail.com
Kathryn Sylvia, Catalons Cattery,
www.catalons.com
Karen Richter, Oztoca American Bobtails,
www.oztoca.com
There truly is nothing like an American Bobtail and I hope that you decide to make one your own someday. The pleasure of living with an American Bobtail is truly a gift and for us, every birth was a little miracle.

Beloved American Bobtails
Ellen R. Brenner
Cherry Hill, NJ 08003
(856)428-6702

email: ellen@belovedshilohs.com
www.belovedbobtails.com