---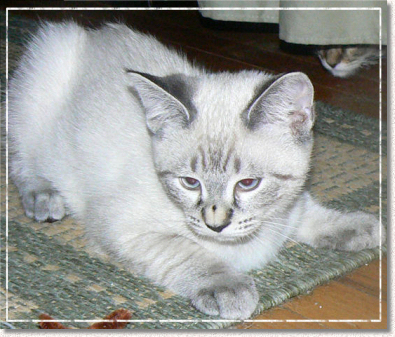 Coral Willow of Beloved Bobtails (above at 13 weeks)
Lynx Point
Coral Willow of Beloved Bobtails (above at 9 months)
Lynx Point
Coral Willow of Beloved Bobtails with her kittens
---
BELOVED AMERICAN BOBTAILS Upcoming Queens are pictured below.
---
Beloved Bobtails Ebony MacIvory (above at 4 months)
"Ebi" is a silver mackerel tabby. She is 4 months old in these pictures. She is from my Dillyn/Pax litter. Dillyn's two litters with Pax produced such amazing kittens that I just had to keep one. Ebi is both beautiful inside and out, very intelligent, and follows me everywhere. She loves to be cuddled as do all of her siblings.
Beloved Bobtails Ebony MacIvory (above at 5 months)
---